PVC Agriculture Rigid Pipe Manufacturer In India
India is an agricultural country and most people's livelihood depends on the agricultural harvest. It is undoubtedly one of the most crucial sources of livelihood for the rural habitants. Our country in terms of size is vast, accommodating substantial agricultural land spread across the country. Irrigation is the process by which agricultural lands are fed water through artificial water pipes, sprinklers, canals, and tube wells. Rainfall is not reliable for even distribution of water, and for the regions which do not receive ample rain, there is a dire need for good equipment for irrigation.
Despite the world being covered by more than 70% by enormous water bodies, clean and safe water is a scarcity that continues to increase manifolds. Pipes and fittings by various PVC agriculture rigid pipe manufacturer have entirely revolutionised water management systems globally.
The world believes in the falsehood of the Water Diamond Paradox, which substantially has been causing havoc to the water bodies around the world. It is high time we realise that water resources are only finite in number, and their uncontrolled misuse will exhaust portable drinking water very soon.
In a country like India, can we really afford the wastage of water ? In a land so rich in agriculture, and when our Country's economy is already dependent on it, rainwater and its distribution using agriculturally efficient PVC pipes and fittings is imperative.
Here is a list of rigid PVC pipe manufacturing companies who have specialised products for our country's agriculture and irrigation needs.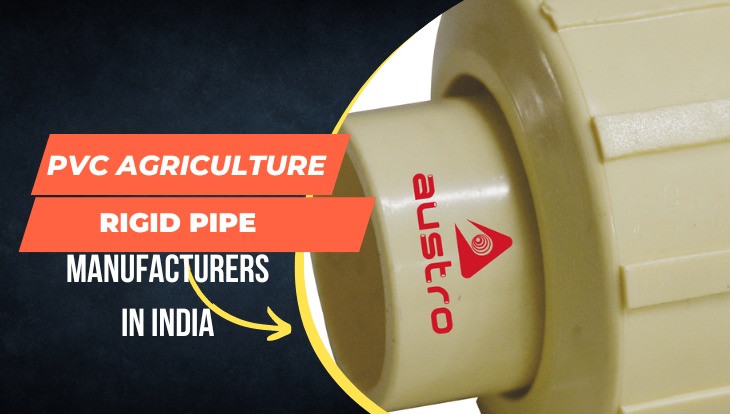 Agricultural pipes and fittings manufactured at Austropipes are of superior grade, and are the best possible solution for all irrigation issues dealt with by farmers. Austropipes is a leading manufacturer of a wide range of PVC agriculture rigid pipe. The rigid PVC pipe is manufactured using stringent quality control protocols. Austropipe is a PVC agriculture rigid pipe manufacturer who have revolutionised water management worldwide. Such complete and cohesive, providing such piping systems save and harness the valuable water resource.
Austropipes was established with the aim of manufacturing plumbing and drainage systems in India. The Company covers the needs of millions of households, while giving an extra mileage to India's developing real estate fraternity with the hallmark of unparalleled quality.
Agricultural Pipes and Fittings provides the best water management solutions for any agricultural operation. You may take our word on this, trust and rely on Austropipes entirely for brand new installations or for replacing older plumbing systems for indoors and outdoor locations. We are a trustworthy name in the industry for providing the best quality PVC pipes and fittings.
These Rigid PVC Pipes are manufactured from high quality PVC Compounds and have very good corrosion and chemical resistance to most acidic and alkaline solutions. The smooth inner wall reduces frictional losses and scaling. It is Lightweight, easy to transport and therefore easy to handle during plumbing and construction. These pipes are applicable in various ways in agriculture, including in drip and sprinkler irrigation systems, lift irrigation systems, surface irrigation systems, and subsoil drainage systems.