Electrical Conduit Pipe Manufacturer
Austropipes is a leading PVC Electrical Conduit Pipe manufacturer and supplier.
PVC-U insulated electrical conduit for construction refers to the pipeline used to protect the wiring and guarantee the wiring of electrical cables in the electrical installation of buildings, allowing the easy penetration and replacement of wires. Austropipes is a leading manufacturer of a wide range of PVC agriculture rigid pipe. The rigid PVC pipe is manufactured using stringent quality control protocols. They have complete and cohesive manufacturing practices, providing piping systems that protect your wiring systems and keep them accessible for future repairs.
Austropipes was established with the aim of manufacturing plumbing and drainage systems in India. The Company covers the needs of millions of households, while giving an extra mileage to India's developing real estate fraternity with the hallmark of unparalleled quality.
Austropipes is one of the leading Electrical Conduit Pipe manufacturer companies in India that offers the premium quality pipes uniquely formulated with unplasticized polyvinyl chloride (uPVC) to meet the most stringent Indian and International standards. The precision round conduit pipes for electrical wiring are best suited electrical pipes for wiring in your home, as they have various properties including being lightweight, flame retardant, high tensile strength, and maintenance-free.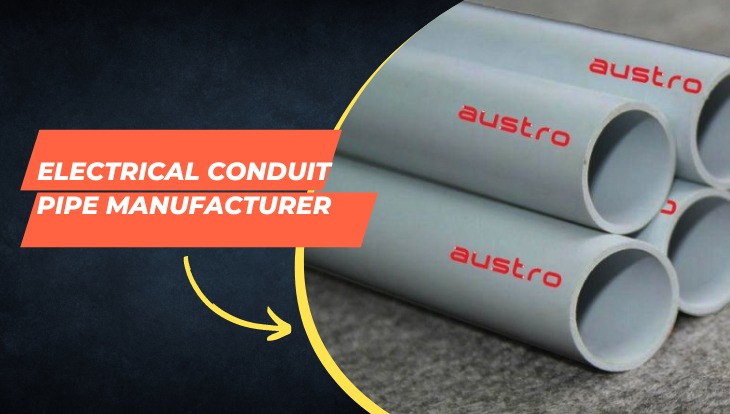 An electrical conduit is basically a pipe that is designed to conduct electricity. These pipes are used for a variety of different purposes including building interiors, outdoor wiring and other electrical wirings. Conduit pipes are used in order to protect your home or your office from an electric fire, as well as for aesthetic reasons (such as, to conceal pipes for the look of the building). Also, conduits can be used to direct the flow of electrical wiring in a compact manner, such as in commercial and residential buildings. Whether you're working in a residential building or commercial setting, conduit can greatly ease the installation process as well as ensure that your wiring is code compliant, safe and effective. If you're looking for a reliable name for a PVC electrical conduit pipe manufacturer, Austropipes offers a variety of conduit for power supply and telecommunication installations. Their conduit is PVC or U-PVC with appropriate PVC fittings. This conduit will allow you to tackle a variety of appliances, whether it involves HVAC, lighting or mechanical power supply. These materials are all extensively and thoroughly tested to ensure the highest quality performance in operation. A better understanding of the different types of conduits and how they can fit your next electrical project can help you choose the right electrical conduit pipe.
Conduits are made from different materials such as PVC/U-PVC plastic, galvanized steel, aluminum or copper. All of these materials are good conductors of electricity and will not allow the electric current to flow through the pipe but can still carry the wires safely throughout the building. Some people even use stainless steel as a conduit as it is more durable than galvanized steel. The appearance of a typical PVC electrical conduit pipe is white in color (depends on manufacturer), the inner and outer walls are flat and smooth, and there are no bubbles, cracks or uneven colour defects on the surface. The inner and outer surfaces are free of ribs and any other defects. The edges of the nozzle are also made to be smooth so that they do not damage the insulation of wires and cables.
Various conduit pipe size can be required for various functions. Different sizes of electrical conduit pipes can be used either indoors or outdoors. Conduits are usually used to protect your home from a fire caused by electrical wiring, but they can also be used for aesthetic purposes. An electrical conduit pipe is widely used in urban power grid construction and reconstruction projects, urban municipality reconstruction projects, civil, aviation, airport engineering construction, industria or tech parks construction, community engineering construction, transportation, building roads and bridge engineering construction, post and telecommunications. The pipes are fitted inside concrete, floor slabs or walls, either as wire conduits ( Dark pipe), or it can also be used as a general wire conduit (open pipe). Conduits can be made from plastics, galvanized steel, aluminum, copper, or stainless steel.
Why do you need an Electrical Conduit for your building?
The purpose of an electrical conduit is to be able to effectively protect your home or business from electrocution or electrical fires, and also to maintain the aesthetic purposes of your building. In addition, electrical conduits are used for the above purpose because they can allow different wires to safely run through the same pipe, which becomes especially important when it comes to large heavy machinery such as electrical motors, generators and other exposed wiring.
Choose the right pvc electrical conduit pipes for your home or office.
When you are looking for a pair of electrical conduits to buy, there are several different things you should keep in mind in order to make sure that they are the correct ones for your purpose. The first thing that needs to be considered is the nature of the trunking, such as whether it is convenient to install and disassemble if needed, whether the fire resistance or insulation properties are good, whether it is easy to bend, whether it is moisture-proof and acid-base resistant, etc. It is also important for you to understand what type of material these pipe conduits are made from. Finding out about the material will give you an idea of how long it will last before it needs to be replaced or repaired. Also, you should make sure that you do not end up buying conduits that are wrapped in asbestos, as this material contains small fibers that can be released into the air when they are exposed to high temperature or heat.