PVC Bend Manufacturer in India
Austropipes which is situated in Hyderabad, India is specialized in manufacturing PVC pipes for commercial and domestic uses. It is manufacturing various categories of PVC pipes. The product prices are genuinely reasonable and help the end users to buy at large quantity.
Austropipes is promoted by team of professionals who have more than two decade of experience in PVC industry and has launched the company to give the best products in pipe Industry. Now Austropipes has established itself as one of the finest PVC pipe manufacturer in India with products ranging from normal PVC pipes to electrical conduit and PVC bend manufacturer in Inda.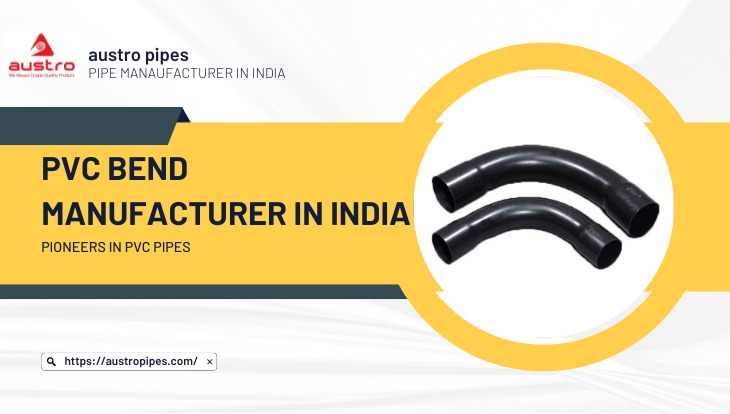 Austro pipe which started its distribution with few vendors in the city has exponentially increased its dealers base not just in Hyderabad but in all across the country. Now, Austropipes the prominent PVC Pipe manufacturer of India has more than three thousand delers to distribute its PVC Products across India to various industrial, commercial, domestic users.
Pipes are manufactured with the state of the art technology as it needs to be durable for more than few decades or else it will spoil the entire structure of the building. So, Austro pipes as a trust worthy manufacturer of PVC pipes has put in lot of quality checks to ensure the quality of the PVC Pipes manufactured in Austro manufacturing centre is on par with International standards.
PVC pipes are usually long and in straight line. However, in the bend or curve it needs special connector pipe to join two lengths of PVC pipes.
Either in electrical circuit arrangement or in water pipe arrangement when a pipe turns at the corner, normally earlier electricians cut the normal pipes, heat it and bend it manually. However, that are not up to the mark and will create lot of wastage or will create problems in the future.
So, nowadays there are special machineries to manufacture such pipe bends which are used in electrical circuit and for water flow. Austropipes also a PVC bend manufacturer in India and they use such machinery to manufacture different PVC bend pipes.
Austro pipes manufactures PVC pipe bend for more than a decade. The PVC bend pipe is very flexible around corners but yet strong. The PVC material used in this type of pipe is of special category and is likely to long last than any other pipes.
The PVC bend is of special quality which can move freely in the groove and get attached with the two linear PVC pipes. It acts as a connector.
Austro pipes has been manufacturing PVC pipes like PVC bend, CPVC Pipe, Electrical conduit pipe, UPVC, Form core pipe SN 4, UPVC SWR Pipes, casing , capping and normal PVC Pipes.
Austro pipes was launched in 2016 and is known for its quality of the pipes since its first delivery of its products. It has got the certifications for PVC pipe manufacturing from ISO certifying the quality of the products.
Also, Austro pipes has more than 3000 dealers across the country to distribute pipes like PVC bend to the end users. The price of PVC bend is quite reasonable. There are different types of PVC bends. Some are 45 degree bend and 90 degree bend. The PVC bends are coming in different angle of bend and different thicknesses.
The electrical conduit pipe also has PVC bend in its category.
Austro pipes also have a Research & Development team which monitors the quality of the pipes and also invents new type of pipes.
PVC Conduit bends and PVC bends are manufactured with cutting edge technology with high quality machineries and are produced in international standards.
The competitors are unable to match the quality and pricing of Austro pipes products. The perfection and precision of the PVC bend manufactured are quite remarkable and is embraced by all builders and dealers across the country.
For PVC bend pipes, a special machine is used to bend the normal pipes. The pipes are cut in to small pieces of required length and the pipe is heated using the heater and is bend using the bend machine. The bend machine needs 40 HP power and the process is done perfectly by PLC Controller.
The machine used in Austro pipes for manufacturing PVC bend pipes can produce more than 1000 bends in an hour. The cost is quite low and thus helps Austro pipes to price very reasonable for PVC bend pipes. The machine can be used to bend pipes of various thickness from 1.2 mm to 1.5 mm.
Manufacturing of PVC bend pipes are also done by small vendors or small manufacturing units. Small industrial units purchase full length and bend the pipes with the machinery and later sell it to the parent company or supply directly to the dealers or retailers. However, Austro pipes has inhouse mechanism, procedure and machinery to manufacture PVC bend pipes , electrical conduit pipes etc.
Their decade experience and team of highly trained professionals help to bring the quality PVC products for Austropipes. The PVC material used for manufacturing such pipes are of high standards and are used to manufacture different PVC pipes from normal PVS pipes to Electrical Conduit pipes.
Austro pipes offer PVC bend in multiple sizes, thickness and colors to suit different needs of application , domestic and industrial use.
PVC bends are mostly used is electrical circuit to accommodate various electrical wires and helps to streamline the electrical arrangement. PVC electrical conduit bends helps the electrical circuit handle pressure on the bends.
There are various types of electrical conduit bends. Nowdays for agriculture purpose the bends are made in metals as well . However, Austropipes restrict itself in manufacturing all pipes in PVC thus specializing in PVS pipes category.
The dealers and customers of Austropipes hail it as one of the top most PVC pipe manufacturer of India.
Also Read – PVC Junction Box Manufacturer